Guild-member memoirs
Lack of information about a guild-member ancestor—his life during his Tour de France, the circumstances in which he joined his guild, his masterpiece, his work, etc.—can be at least partly compensated for by imagining these things, guided by the memoirs left behind by guild members.
The titles given below do not constitute an exhaustive list. Memoirs by guild members and their accounts of the Tour de France were also published in guild newspapers. They are sometimes complemented by biographies (quite numerous in the 20th century among guild joiners, locksmiths, carpenters, etc.).
All Trades
P. BARRET and J. N. GURGAND: Ils voyageaient la France ; vie et traditions des Compagnons du tour de France au XIXème siècle; Hachette, 1980. An excellent work, very well written, based on the memoirs of members of different trades and societies as well as other archives, with sources provided. This is a very reliable work, which unfortunately is also no longer in print. It may, however, be found in secondhand bookshops, either in its original edition or in the republished "Livre de Poche" edition. Secondhand book websites should also be consulted (e.g. abebooks.com, chapitre.com, and livre-rare-book.com).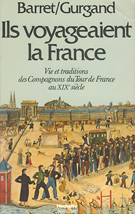 Blacksmiths
Abel BOYER : Abel BOYER: Le Tour de France d'un Compagnon du Devoir; Paris, "Librairie du Compagnonnage", 1975. A. Boyer, known as "Périgord Loyal Heart" (1882-1959) became a guild member in 1901 and published an account of his Tour de France, his military service and his union activities in Paris in the newspaper Compagnonnage between 1945 and 1950. His memories see the light of day once more in the above title.
Stonecutters
Alexandre GRIGORIANTZ: Jean Martin: Mémoires d'un compagnon tailleur de pierre; Paris, Dervy, 2002. Received into guild membership in 1966 under the nickname "The Brotherhood of Orleans", Jean Martin tells author A. Grigoriantz, the fascinating story of his travels, which led him well beyond French borders.
Pierre JOURDAIN : Voyage dans l'Ile de Moncontour; Paris, "Librairie du Compagnonnage", 1997. This other member of the stonecutters' guild, known as "The Will of Vouvray", became a guild member in 1956. He gives a lively account of his Tour de France and of the course of his later life.
It may be remarked that these two testimonies only concern the modern era and the Compagnonnage du Devoir. No memoirs by members of the Stonecutters' Guild exist from the 19th century or of the du Devoir Etranger.
Joiners
Agricol PERDIGUIER: Mémoires d'un Compagnon; several editions, among them that of the "Librairie du Compagnonnage". Perdiguier, a "Companion" joiner of the Duty of Liberty, known as "Avignonnais the Virtue", did his Tour de France during the Restoration. His account, written while he was in exile in Switzerland in 1855, is very important for what it tells us of customs in the 19th century.
François Joseph FOURQUEMIN: Souvenirs d'un menuisier nivernais au XIXème siècle; Autun, "Editions du Pas de l'Ane", 1998. Although not a guild member himself, Fourquemin was in close contact with members of various Duties and did his own Tour de France.
Pierre MORIN: Compagnon du Devoir au XXème siècle: Paris, "Librairie de Compagnonnage", 1994. Pierre Morin, known as "Pierre the Saintonge", finished his Tour in the period between the two Wars. His highly detailed Memoirs are full of information about the guilds of the time.
Glaziers and Painters
Jacques Louis MÉNÉTRA: Journal de ma vie ; Paris, Albin Michel, 1998. This is an essential work, the only known testimony of guild life in the 18th century. Ménétra, known as "Parisian the Welcome", was a Companion Glazier du Devoir and travelled during the 1750s and 1760s. This is the colourful and sometimes tragic account of a libertine guild member.
P. Deruineau: Souvenirs d'un ouvrier peintre en décors; Angers, 1850. Unpublished but consultable on the "Gallica de la BnF" website.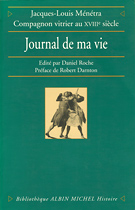 Shoemakers
Toussaint GUILLAUMOU: Les Confessions d'un Compagnon; Paris, Jacques Grancher, 1996. Published in 1863, the Memoirs of Guillaumou, known as "Carcassonne the Well-Loved of the Tour de France", relate the difficulties encountered by shoemakers in their efforts to be admitted into other corporations.
Bakers
Jean-Baptiste ARNAUD: Mémoires d'un Compagnon du Tour de France; Libourne, 1859. Arnaud, known as "Libourne the Decided", recounts his stops along the Tour de France in the 1830s and 40s. He provides a wealth of information relating to the Bakers' Guild which, like the Shoemakers' Guild, suffered from the animosity of other corporations. Unpublished but consultable on the "Gallica de la BnF" website.
Carpenters
Joseph VOISIN: Histoire de ma vie, ou 55 ans de Compagnonnage; Tours, "Imprimerie du Progrès, 1931. Voisin, known as "Angoumois the Friend of the Sketch", was a companion carpenter du Devoir de liberté; His memoirs relate his recollections of the Tour de France between 1870 and 80.
Boiler-makers
Gabriel DESERT: Mémoires d'un travailleur bas-normand. Première moitié du XIXème siècle. In Annales de Normandie, June, 1969. Désert published the memoirs of a member of a "Companio n" boiler-maker (or "pot-maker") from Avranchin by the name of Pierre Ameline (known as "Normand the Benevolent), who was received into the guild in Marseilles in 1837. This is the only known memoir relating to this trade.
Saddlers/Harness-makers
August BATARD: Souvenirs d'un apprenti bourrelier-harnacheur, compagnon du tour de France, 1887-1891, by "Nantais the Well-Behaved"; Nantes, "Union Compagnnonique", 1956.
Mason
Martin NADAUD: Mémoires de Léonard, ancient garcon macon; Paris, Maspéro, 1982 and other subsequent editions. Published in 1889, these are not the memoirs of a guild member, as masonry was not yet numbered among guild trades. They are, however, essential to understanding the seasonal migrations of masons in the Creuse region and life on Parisian construction sites.